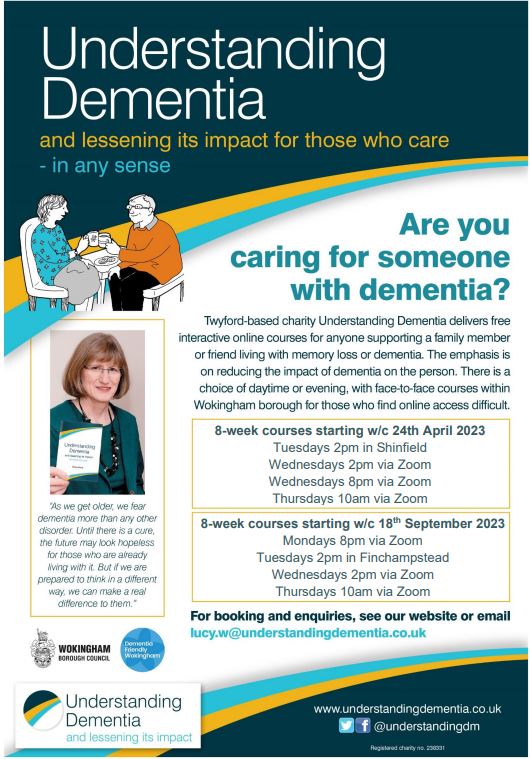 Family Carer Training 2023 – 8 weeks from Wednesday 26 April – 2PM Online via Zoom
Family Carers
If you are supporting a friend or relative, in your home, their home or in a care home, this is for you.
We hold 8 interactive sessions at weekly intervals for about 6 trainees at a time. Courses are mostly online, but we hold one face-to-face group per term in Wokingham Borough. Each term the course moves to a different area of the borough.
The family carers' course is free to attend, but we ask you to read our booklet 'Understanding Dementia and Lessening its Impact', available via our website @£5, including UK postage. Each session includes a short presentation using anonymised real-life examples, with time for questions and discussion. You'll discover how the dementia affects the person you support, and why it can make the caring role so difficult. You'll learn skills to help lessen the impact of dementia on you both.
Each week we focus on a different aspect of our approach; you can try out techniques between sessions and discuss your experiences at the next one. During the course you will gradually deepen your understanding of dementia and develop your skills, with support from the trainer and other members of the group.
1. Introduction to Understanding Dementia
– what's different about this approach, and how it can lessen the impact of dementia
2. Well-being in dementia
– its importance, its vulnerability in dementia, and how to support it
3. Questions
– why they can be unhelpful in dementia, and better ways to support choice
4. Being a buddy
– how to get alongside the person you care for, and build a better relationship
5. Contradiction and confrontation
– why we should avoid them, and how to do that without getting tangled up in lies
6. Listening and talking skills
– what to listen out for, what we can learn, and how to deal with repetitive questions
7. The hazards of 'parenting' our elders
– why role reversal can cause problems, and how to address 'difficult behaviour'
8. Where to go from here
– how to avoid a crisis and delay the need for 24-hour care by planning ahead
After completing the course, we will invite you to join our online community of family carers using this approach, for ongoing discussion and support.
*Courses run for 8 weeks
Sold out!